Duck Fat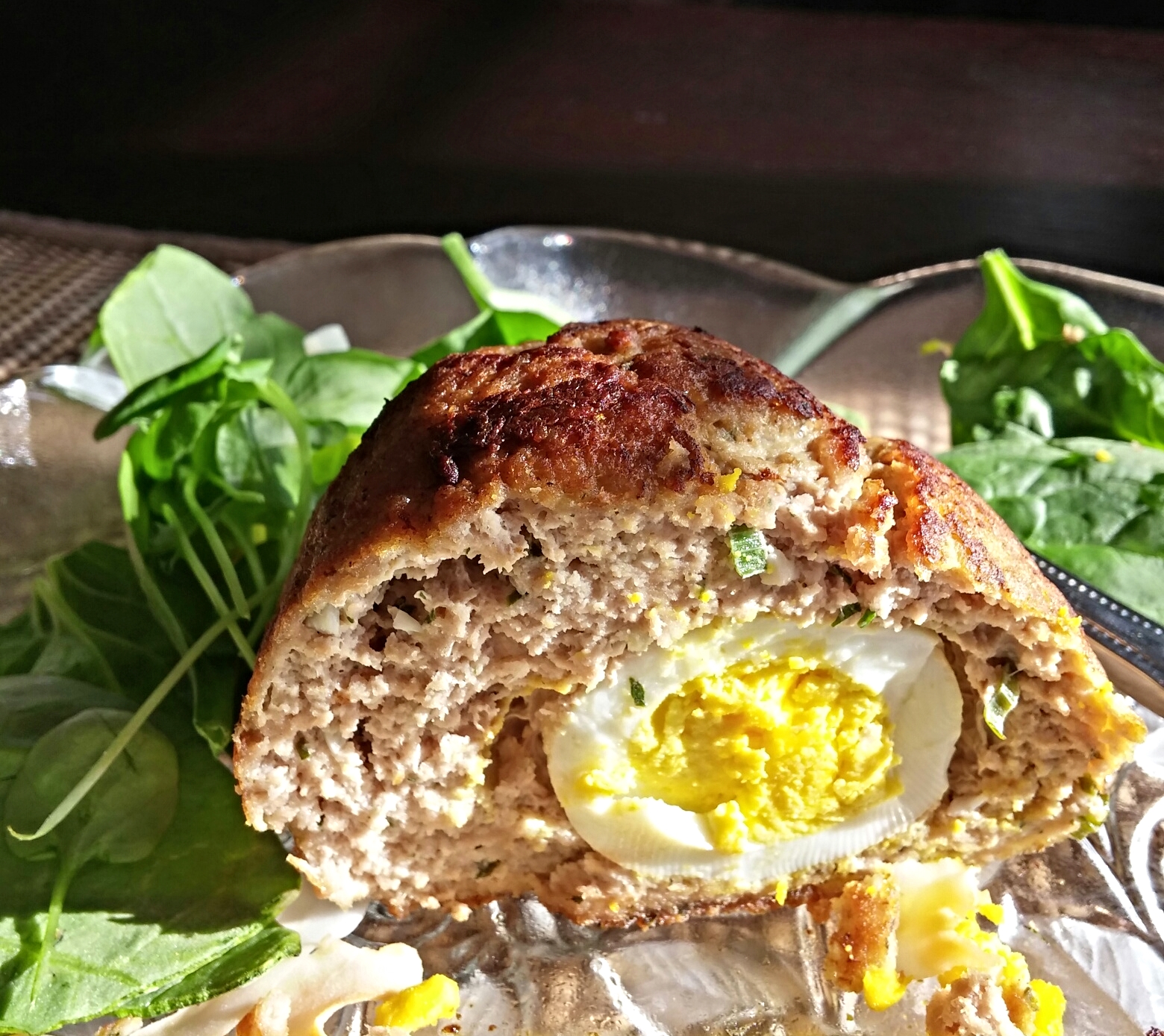 Last week I took the liberty of browsing my local grocery store looking for some interesting items to add to my kitchen pantry. As I was checking the organic meat section I came across duck fat. The thought of duck brought back so many happy memories that I decided right away that I wanted to try it!
My favorite fats that I use for cooking are extra virgin olive oil, extra virgin coconut oil, and avocado oil (all cold pressed and organic). But clean animal fats (fats from organic meats that have not been processed or have antibiotics) are also really healthy and good options.
The duck fat that I bought reminded me of my favorite Asian restaurant in Northern Virginia -- Peking Gourmet Inn in Falls Church, Virginia. I miss the food especially their specialty the duck! The owners raise their ducks themselves and they cook the skin so crispy and tasty. It is so delicious!
Though I was very excited to try the duck fat, I really had no idea how I was going to use it. Naturally I called my cooking coach, my dear mom, and in an instant she ran off a recipe for me to try.
I'm calling this recipe the Golden Egg Surprise. I think it's an ingenious and unique meal to put together for the New Year. In addition, I'm adding a duck fat sauce to go with the recipe. You could use pretty much any spice you wish for the Golden Egg Surprise. I used turmeric to sprinkle on the hard boiled egg inside the ground meat egg. You see, you end up making an egg within an egg.
It's a surprise because when you cut open the ground meat you will find the hard boiled egg inside. And it's quite a lovely presentation. I used organic baby spinach, living cress, and crunchy coconut chips to decorate my plate. Use whatever you have on hand. You could pan fry some noodles to get them crunchy and create a nest for your egg. Really the sky's the limit with this dish!
Golden Egg Surprise
Ingredients
1 lb of organic ground meat (turkey, chicken, lamb, or beef)
1 garlic clove minced
1 organic green onion thinly sliced
1 or 2 tbsp organic parsley chopped finely
Himalayan pink sea salt to taste
Freshly ground pepper to taste
Turmeric (optional)
Couple of dashes of thyme (or any spices of your choice)
Pinch of organic lemon zest and a squeeze of lemon juice
1 tbsp of gluten free flour of your choice (I used Bob's Red Mill All Purpose Baking Flour) plus more to coat the ground meat egg
2 eggs (pasture raised or organic)
2 or 3 tbsp of duck fat or any type of healthy fat
Directions
First make your hard boiled egg. As you are cooking your egg, add the ground meat, garlic, green onion, parsley, salt, pepper, thyme, lemon zest and juice, and flour in a large bowl. Combine your meat mixture well. Once your egg is done and cooled off, gently peel off the shell. Next, sprinkle turmeric all over the egg. Flatten the meat mixture and place the egg on the middle of mixture. Gently fold the meat mixture with your hands to cover the hard boiled egg. Shape the meat mixture into an egg. Quickly whisk your second egg in a large bowl. Take a large plate and sprinkle a few tablespoons of flour onto it. Turn on your oven to 350 degrees. Add the duck fat onto your cast iron pan and turn on the heat between low and medium. Gently coat your meat egg with the flour by rolling it around. Then roll the meat egg around the whisked egg. I used a spatula and a large spoon to carry my meat egg onto the cast iron. Now brown your meat egg a few minutes on each side. I even browned the two ends. Using the spatula and large spoon will help. Once your meat egg is browned all around place your pan into the oven for about 20 to 30 minutes until cooked.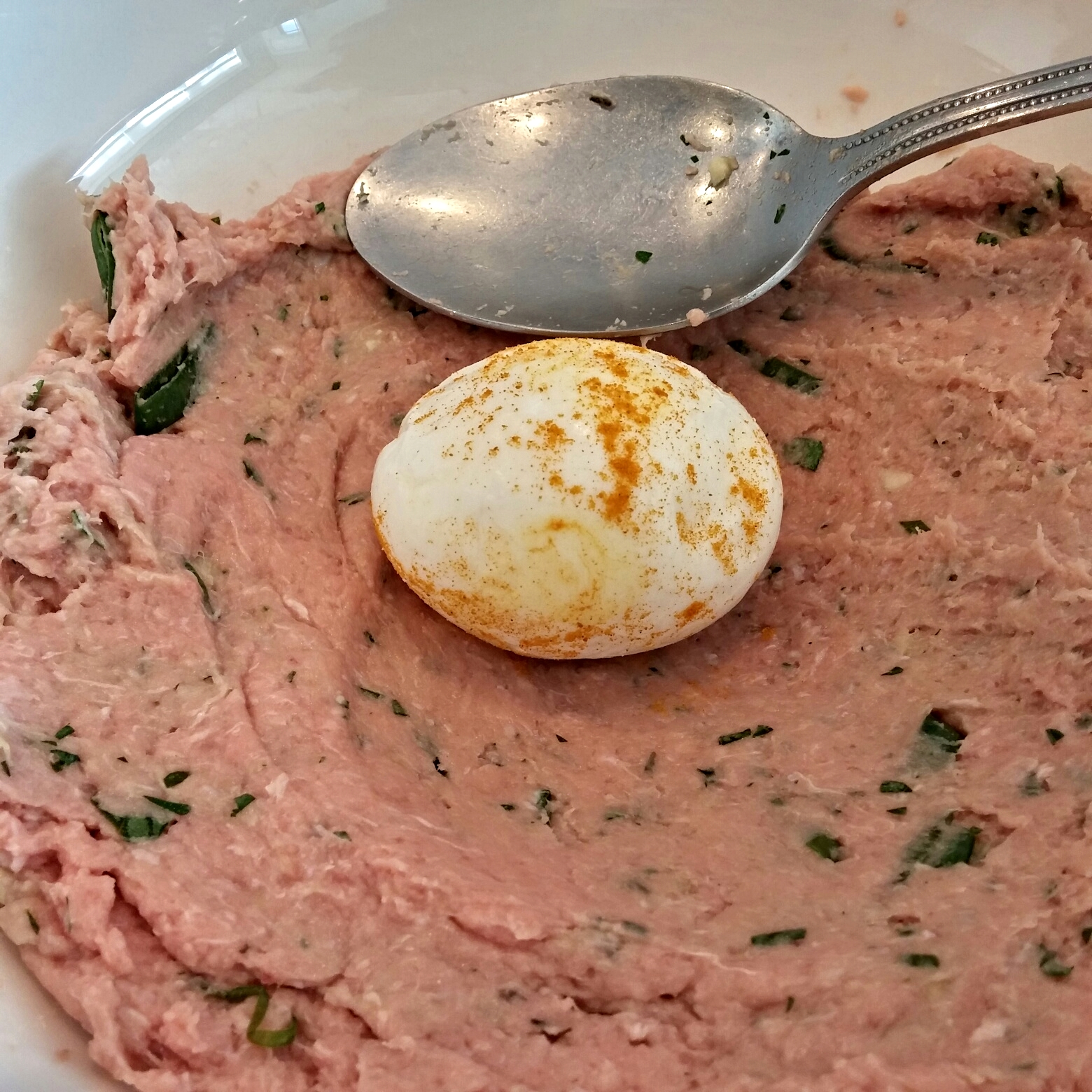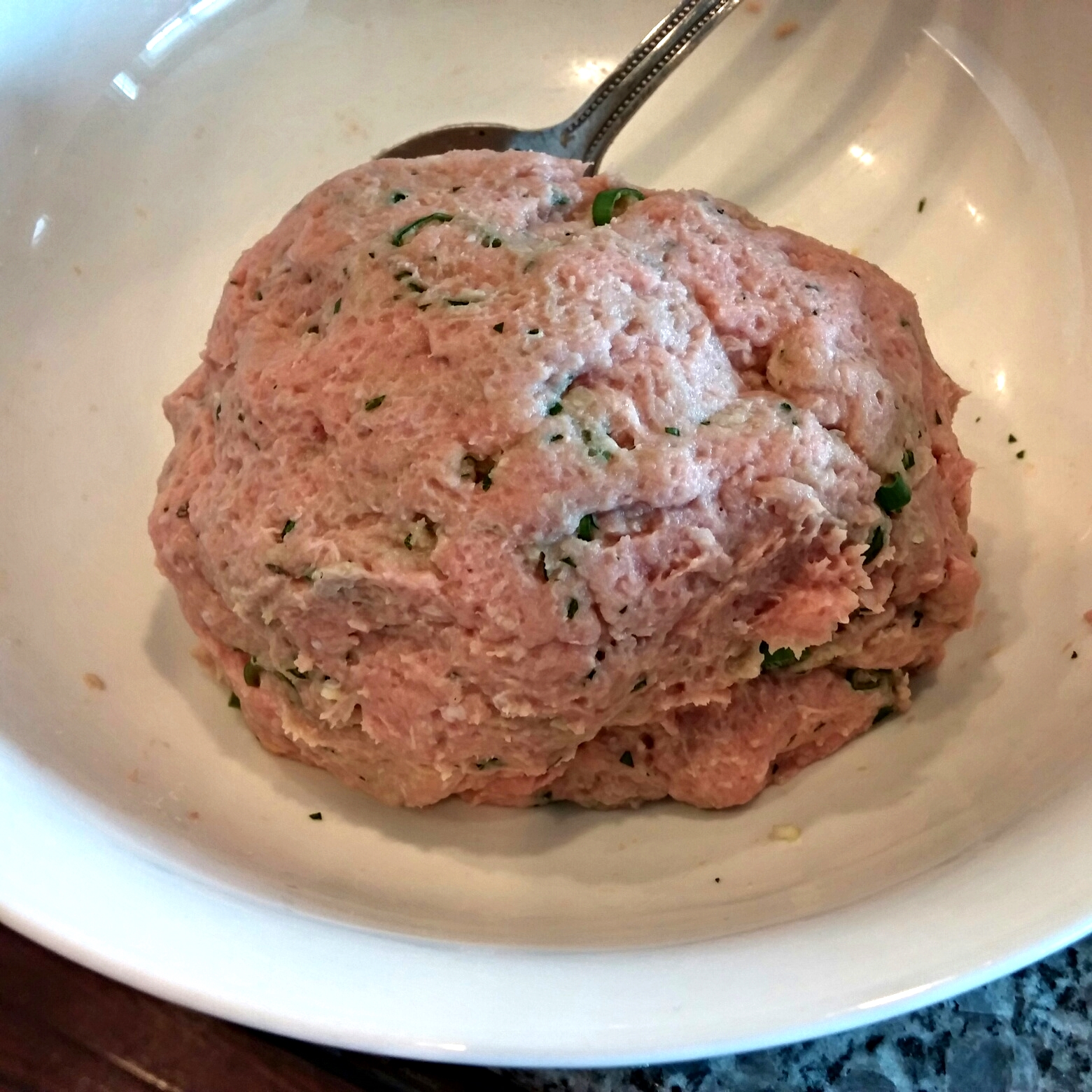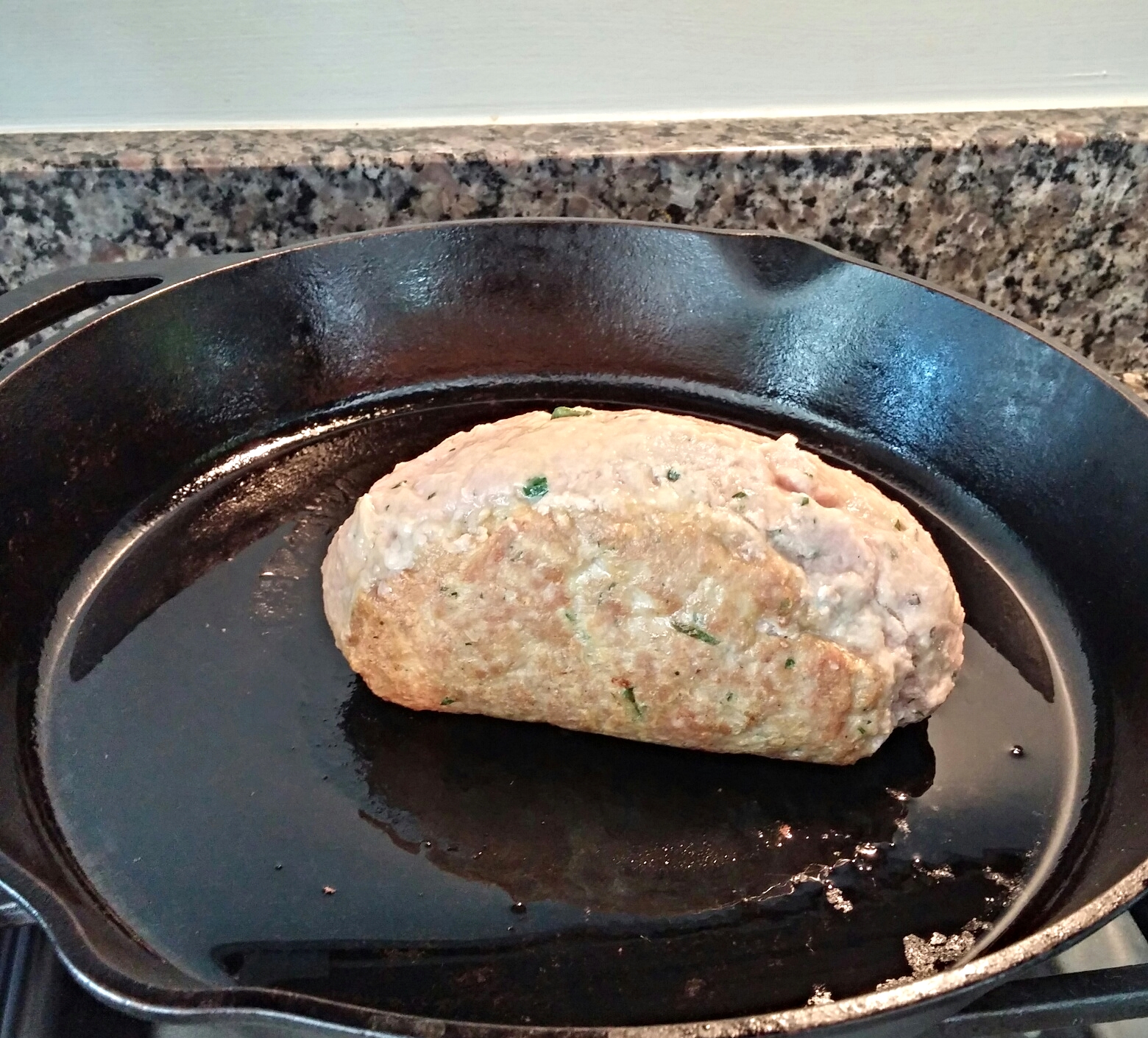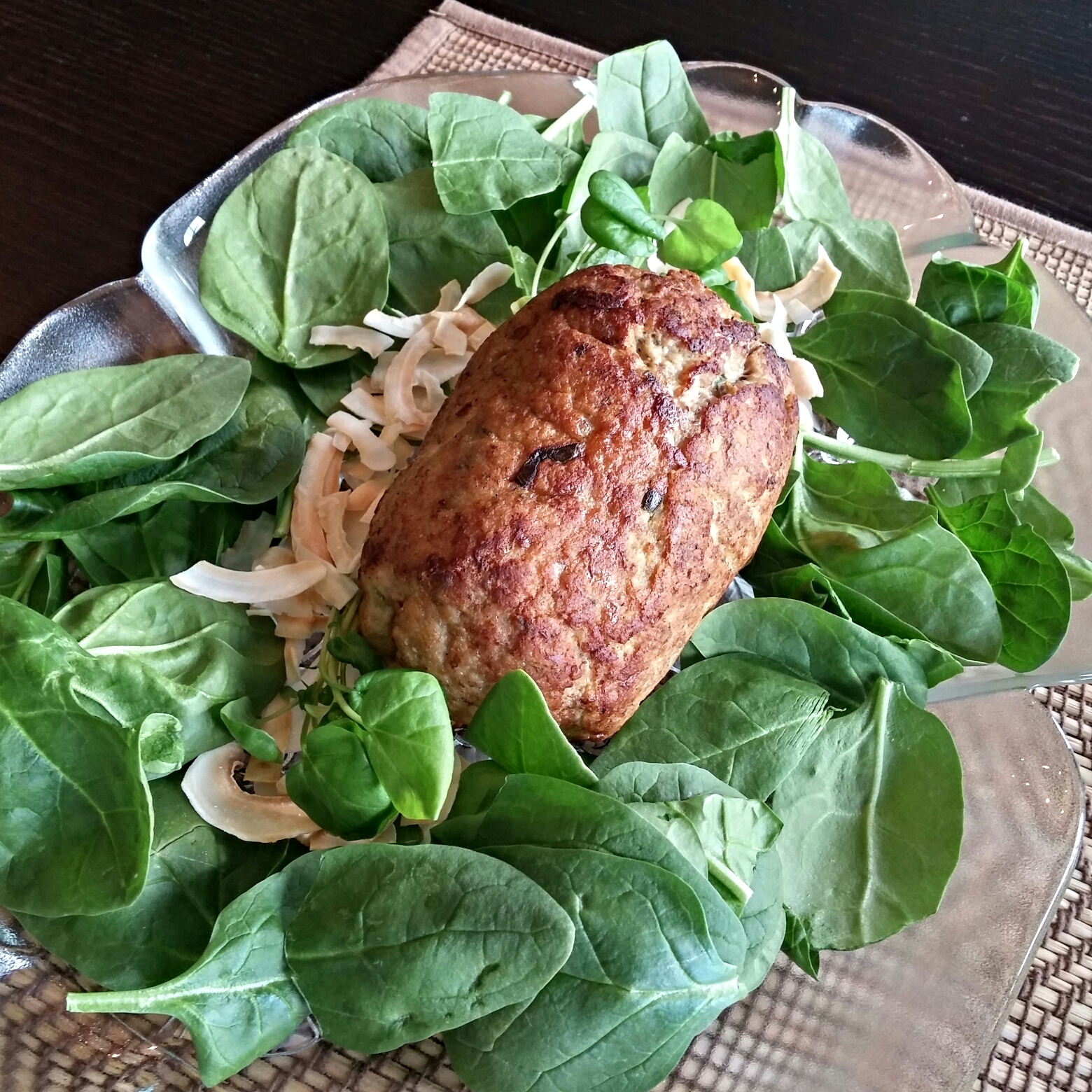 Duck Fat Sauce
Ingredients
One egg yolk, 2 if you want your sauce richer
1/2 cup bone broth of your choice, warmed
Pinch of white pepper
2 tbsp duck fat
1 tbsp arrowroot flour
Pinch of Himalayan pink sea salt or to taste
Fresh parsley chopped (optional)
Freshly squeezed lemon juice (optional)
Directions
Use a double boiler to cook the sauce to prevent the egg from curdling. Add the egg yolk, pepper, duck fat, arrowroot and cook on low heat. Slowly add the bone broth. Keep whisking until your sauce is cooked about 10 to 15 minutes. If the sauce is too thick, add 1 of 2 tablespoons of hot water. Add the salt, parsley and lemon juice at the end. Enjoy!
Resources for Clean Eating
Sign up for one of my programs!
My ON FIRE 6 Month Health Coaching Program
My 3 Month Health Coaching Program
My 1 Month Health Coaching Program