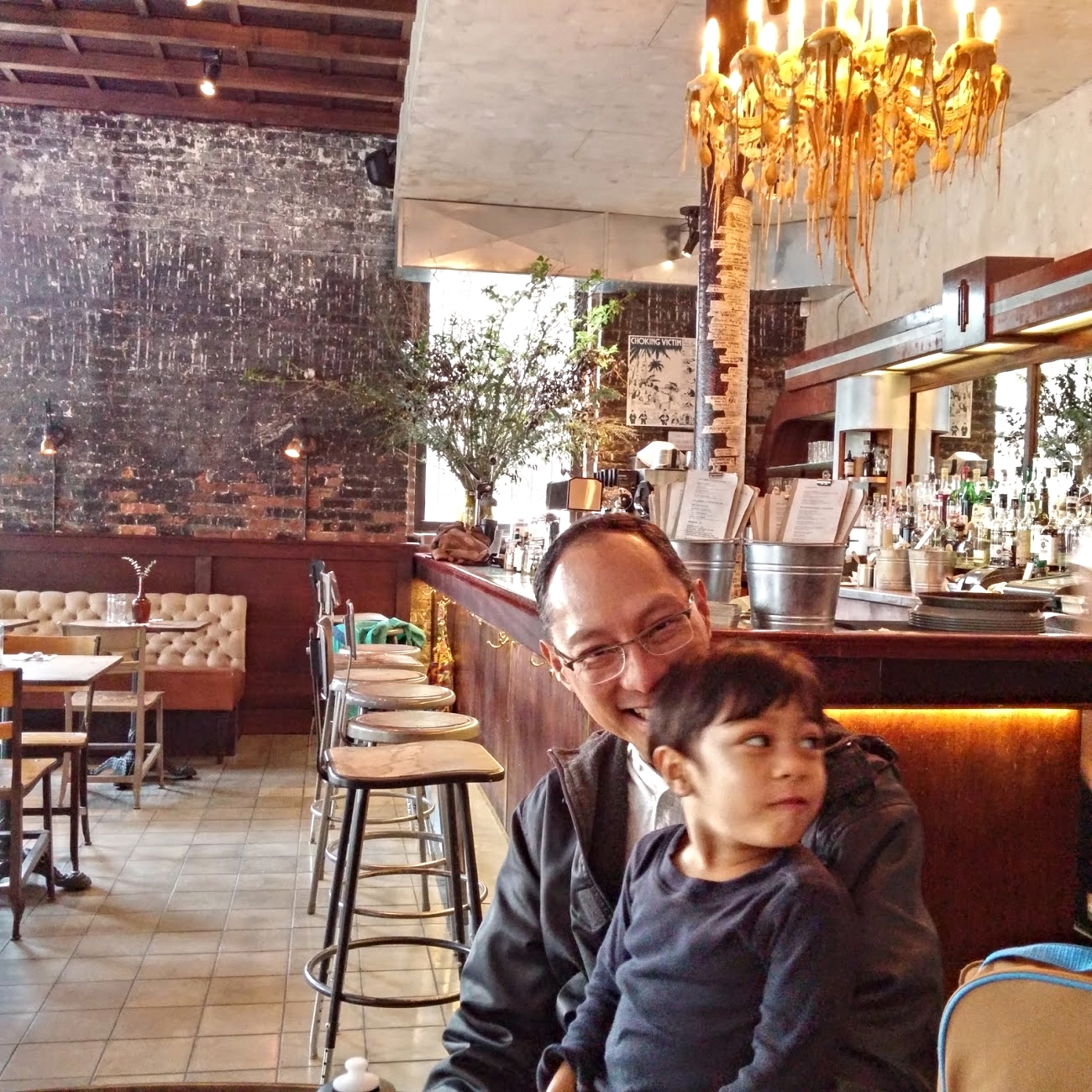 Initially, I had imagined my family and I staying at this incredibly luxurious home called The Notorious B.N.B. in the Clinton Hill area of Brooklyn, New York through Airbnb. I had planned on partaking in their highly rated breakfasts, too. I mean, come on! Who wouldn't want to try the butternut squash pancake with maple mascarpone topped with sage squash puree and served with house-made spiced lamb sausage or the orange blossom honey Persian yogurt with a dusting of dark chocolate and candied ginger? Right?! Sadly, last minute the hosts notified me of a family illness and so there went over a month's time of planning.
However, thank God for the very hip and swank Aloft hotel located in Brooklyn near the Barclays Center. We ended up staying for two nights. Aloft was very accommodating and was pretty central to where we needed to be.
In all, Brooklyn did not disappoint and our mission was accomplished. We had planned on spending time with family and friends in our two and a half days' visit and discover Brooklyn for a bit. Here's a look at what we did.
Day 1
By the time we checked into Aloft hotel it was mid-afternoon and we were pretty hungry. Thankfully, the food quality in Brooklyn is very good and there were some organic and clean restaurants and eateries still serving lunch. We decided to take a cab to Moo Burger to have a bite to eat. The folks there were very friendly and accommodating to my clean diet. I ordered a turkey burger on gluten free bread as well as the mixed green salad which was really yummy. I would definitely go back.
Since Brooklyn Bridge Park was not too far away, we decided to walk and explore some. I have to give it to Brooklyn -- they sure know how to create some impressive spaces for children. If we lived in Brooklyn, we would take our son to Brooklyn Bridge Park often. He loved the sand box areas and the slides. This park is huge. We only perused two small areas but they have areas for older kids, too.
We decided to postpone dinner until 7:30 p.m. Everyone was tired from the travel and the walking. Reservations were made at Prospect. Prospect is a small, casual place in Brooklyn not too far from Aloft hotel. Service was mediocre and unfortunately we had to cut our stay short since our little boy was just too exhausted to say the least. We asked the server to bag the whole dorade fish for two and had a late dinner in our hotel room. I enjoyed the dorade very much with the jasmine rice and the spices. I have noticed since eating completely clean for about a year and a half I am able to tolerate spicy foods. Never before would you ever catch me enjoying spicy hot foods so this is a new experience that I'm quite happy with at the moment. I give the food four stars out of five.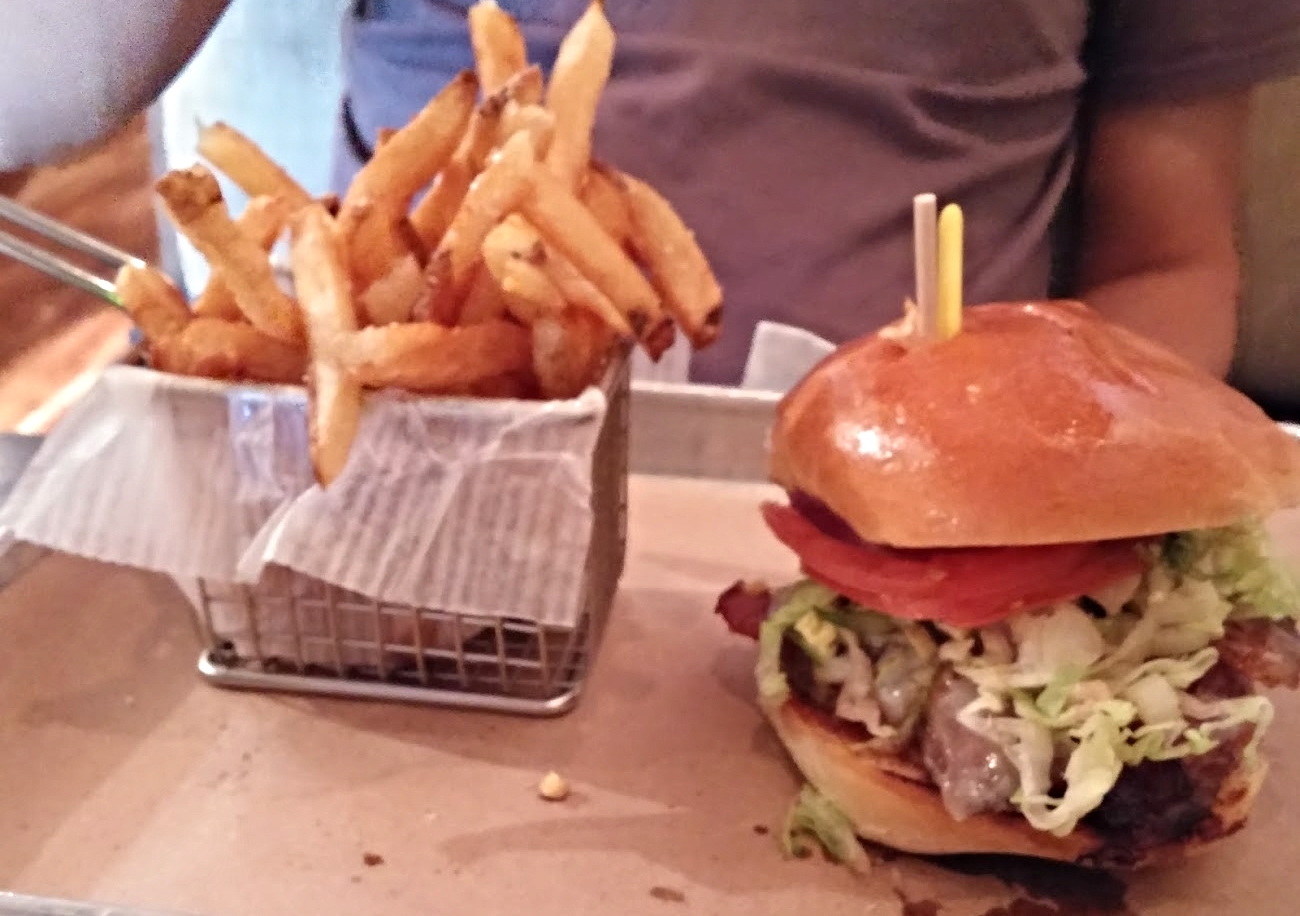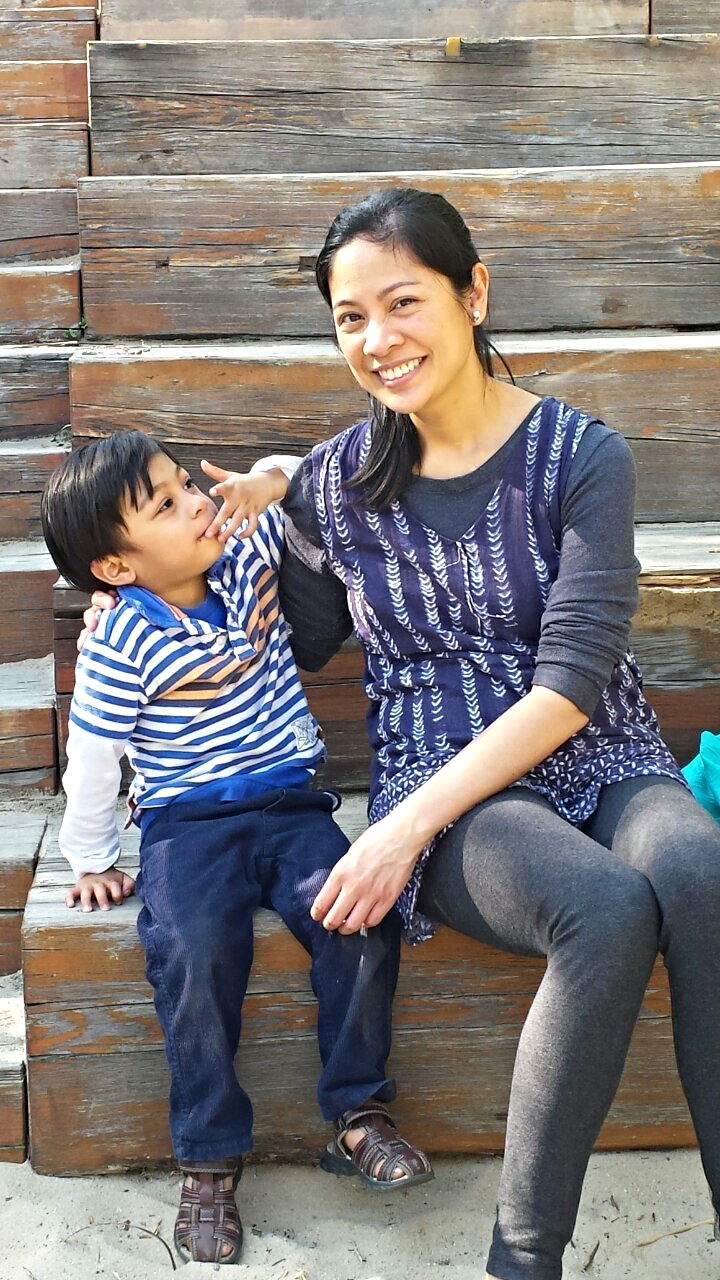 Day 2
I really looked forward to day two of our trip because we scheduled a meeting with my beautiful cousin Ria for lunch and made dinner plans with my husband's oldest friend since their crib days. Our first stop for the day was the Brooklyn Children's Museum. This is a wonderful children's museum especially for young children. Our son could have spent days maybe even weeks there. We even got to see a ball python up close.
On my father's side I am one of four female cousins. Not that many of us girl cousins and since we are so geographically scattered it's so meaningful and precious when we get together. I was so grateful to spend some time with my cousin Ria as the last time was nearly seven years ago. We had a lovely lunch at Eugene & Co. I really savored the Spring Greens salad, Roasted Broccolini, and the Chicken (without the bread). This place was the highlight of my eating escapades while in Brooklyn. I loved everything -- the ambience, the service, the food. It's just honest to goodness organic food and the perfect place to catch up with loved ones. The server even let me charge my cellular phone in his work station since my phone was about to go dormant. Eugene & Co. is a must when in Brooklyn.
Pok Pok was highly recommended to us so that's where we decided to have dinner with my husband's oldest pal and his lovely wife who were visiting from Hawaii for their son's college graduation. It had been thirteen years since they last met up so this was very special for them. I liked the food very much but my expectations were set too high. I wish we had decided early enough to get the Kai Yaang Tua (the roasted chicken) but it sold out fairly quickly. I had the Khao Man Som Tam (the green papaya salad) and the Khao Soi Kai (the chicken curry noodle soup) which were both really good.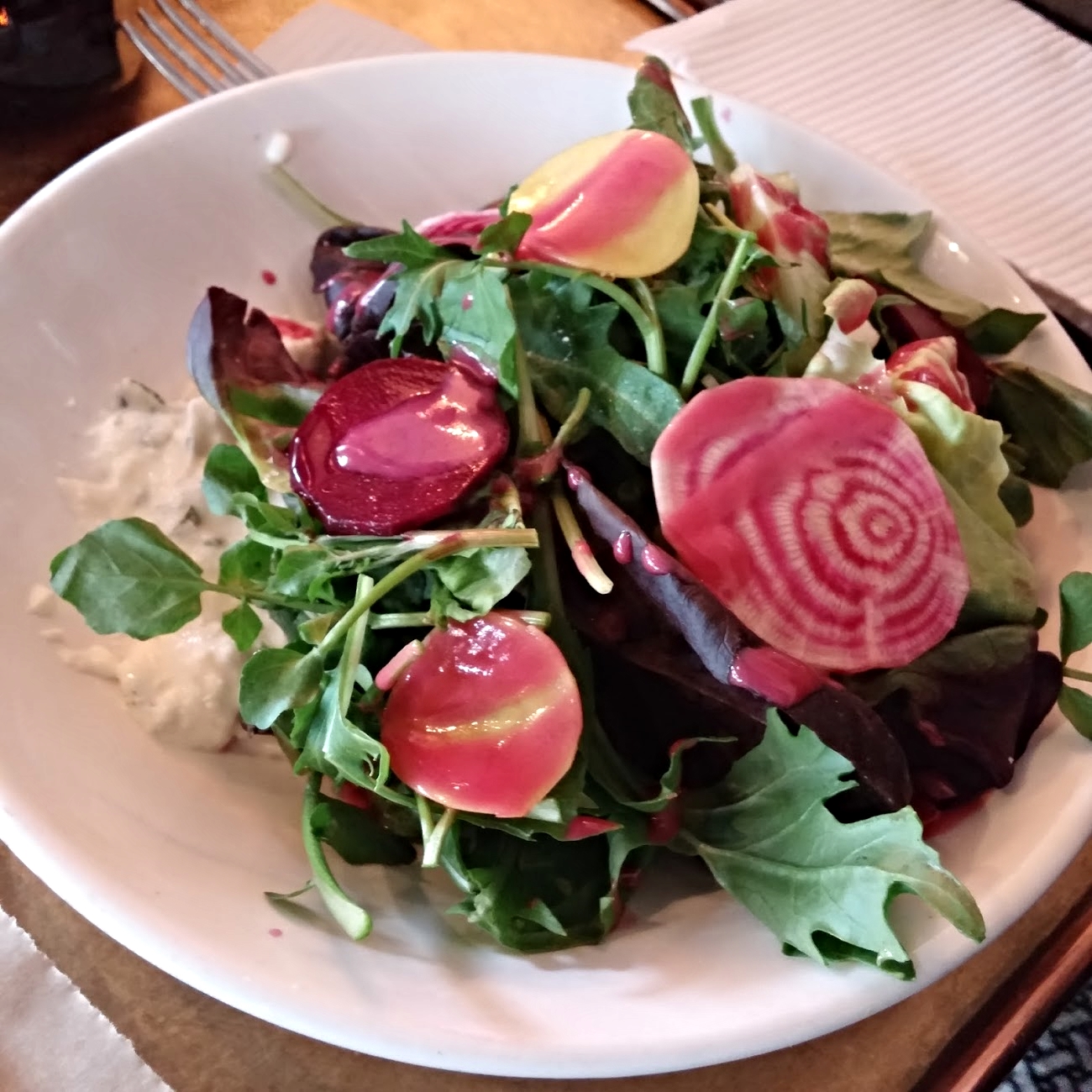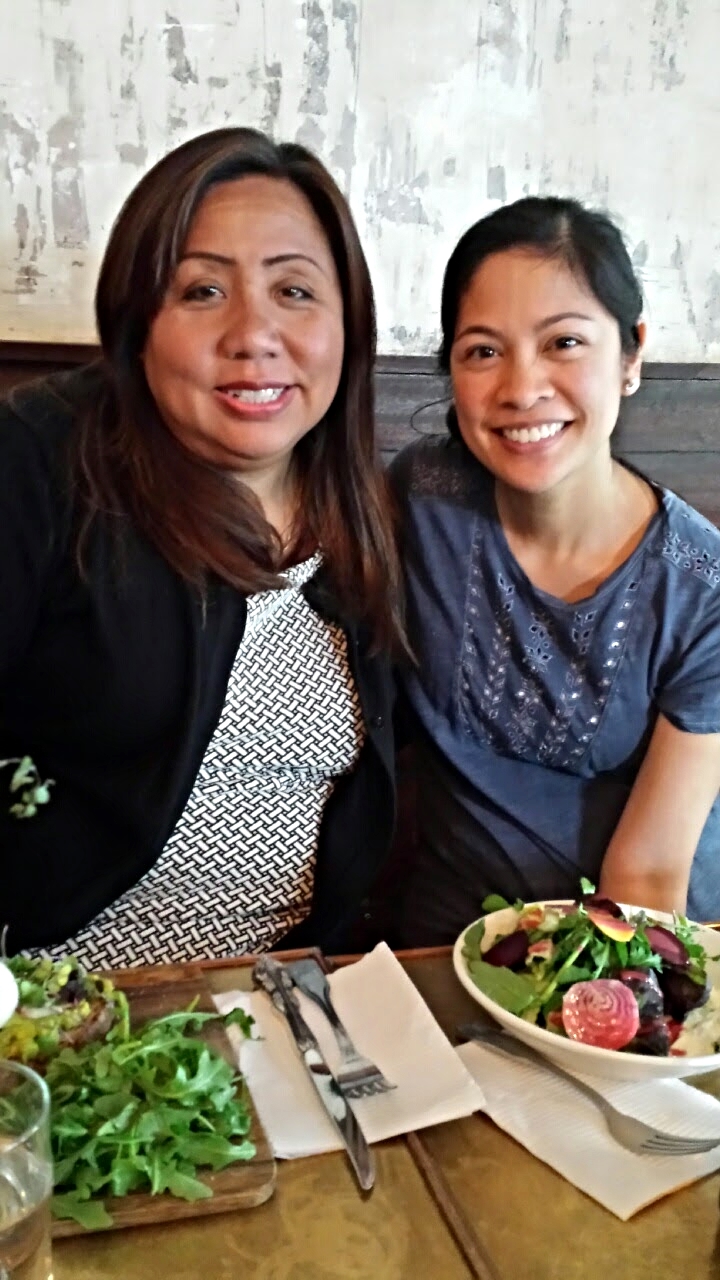 Day 3
For our last Brooklyn eating excursion we had brunch at French Louie with a dear college friend that I hadn't seen in fourteen years. Again we lucked out as the weather was perfect for walking. This place was great for brunch because it was not crowded or loud and the food was very good. I had the Snug Harbor Greens minus the bread crumbs, the chicken sausage, and green tea. The food was quite satisfying and nourishing.
So mission accomplished! My family and I got to spend some good quality time with loved ones in brilliant, awe-inspiring Brooklyn. I was also very impressed with overall food quality at restaurants. These days I purposefully seek out organic, farm to table restaurants most definitely when traveling. Deep down I confess to being overly cautious and particular with food in the hopes of preventing the kind of illness I have had in the past two years for myself and for my family's sake. As the saying goes, "Better be safe than sorry." There are so many farm to table places in Brooklyn which I think is very encouraging. Indeed, it is very possible to eat clean while on trips with planning and researching ahead of time. I'm excited for our next visit back to the city!
Resources for Clean Eating
Sign up for one of my programs!
My ON FIRE 6 Month Health Coaching Program
My 3 Month Health Coaching Program
My 1 Month Health Coaching Program