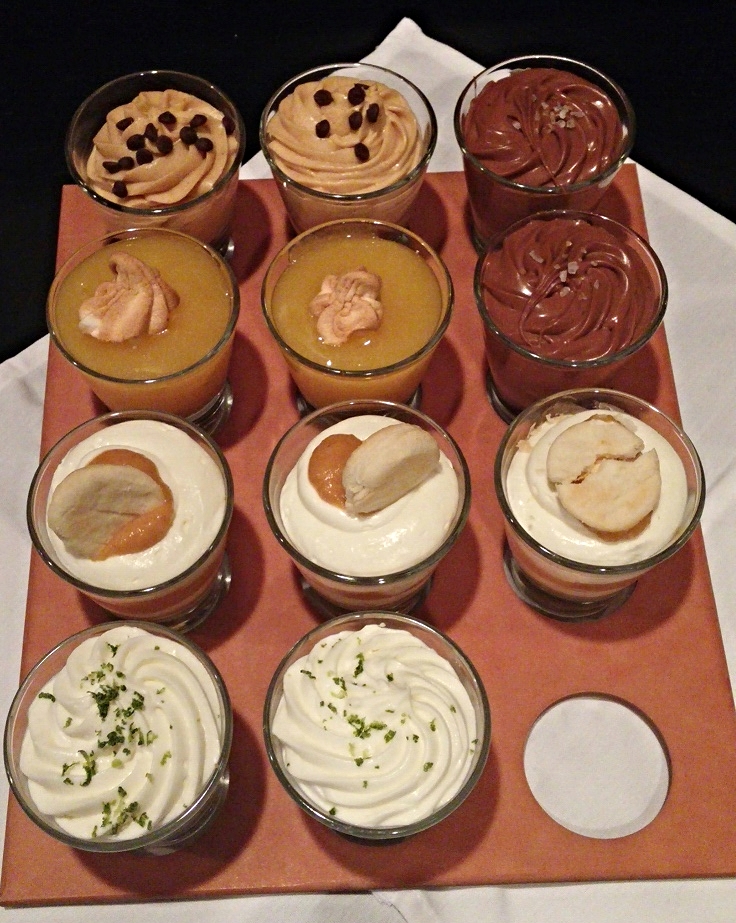 I hope that everyone had a wonderful weekend. My family, closest friends, and I sure did! We happily celebrated my husband's birthday at a fabulous organic, farm to table restaurant called Susquehanna Harvest Seasonal Grill and Wine Bar in Harrisburg, Pennsylvania. They were able to accommodate our party in a lovely private room and serve us delicious, organic appetizers, salads, and entrees. Awesome place, service, and exceptional food! I like that they change their menu with the seasons and do fun things like tasting menus. I highly recommend it for those who visit central Pennsylvania.
On a sad note I did something that I really should not have done. I OD'd on sugar. What they say about sugar is pretty accurate. Sugar is the enemy. This past weekend we indulged in gluten free sweets like chocolate cupcakes, chocolate birthday cake with cherry filing, and super rich, decadent desserts. I steered clear from the gluten and dairy but I forgot about the sweet stuff. And I paid for it and felt the nagging effects of a sore throat yesterday morning.
Since November 2014 I have been able to stay away from refined sugar with lots of determination and the help of yummy low glycemic dessert recipes, most from the book "Clean Eats". These days I like making my own cookies and other goodies with coconut nectar, coconut sugar, honey, and maple syrup. These have been fantastic because they taste so good but also keep my weight down!
I had to find a quick remedy that morning because the sore throat was making me feel irritable. I found an immediate fix with a recipe from "Clean Eats". In 30 minutes or less the pain in my throat was gone. I really have found that eating the right foods have healing capabilities. Now I've never liked over the counter drugs so using real food as my medicine cabinet is perfect.
The two big helpers in the drink I made yesterday morning were raw cacao and grass fed gelatin by Great Lakes. I buy both on Amazon here and here. This gelatin brand is probably the best because it's one of the only ones that is clean. Other brands do not use grass fed animals. I promise you, if you ever feel a scratchy throat or the beginnings of a cold or flu, this chocolate healing elixir is top notch and will fix you up in a jiffy. It's like it stops the cold right on the spot. I love it!
If you want to make your own chocolate drink, definitely use raw cacao and the Great Lakes gelatin brand. Regular cocoa mixes are filled with refined sugar and contain a lower quality of chocolate. You can add coconut nectar or any other low glycemic sweetener instead of stevia. If you don't mind stevia, then go for it. It's just not my favorite.
Sugar really lowers immunity and causes incredible weight gain. Since kicking the sugar habit I've lost more than ten pounds. Cut out refined sugar from your diet and try fresh organic fruit first. I love eating organic gala apples with organic almond butter and organic apple butter. Remember to get the ones without the sugar. Also try coconut nectar which is my favorite. Coconut palm sugar, raw local honey, and real maple syrup are very good sweeteners too.
It takes commitment and dedication to make the change to a sugar free diet -- meaning no artificial sweeteners and refined sugars. I grew up on sugar. It's in practically every boxed food in the grocery. But it is not impossible to choose a sugar free diet. I would say that if you do the clean program for 21 days, it is much easier to go sugar free. Follow the plan, learn more about the foods that you consume, and listen to what your body tells you.
For our next celebration, I will remember to ask about substituting low glycemic sweeteners for refined sugar!
Resources for Clean Eating
Sign up for one of my programs!
My ON FIRE 6 Month Health Coaching Program
My 3 Month Health Coaching Program
My 1 Month Health Coaching Program