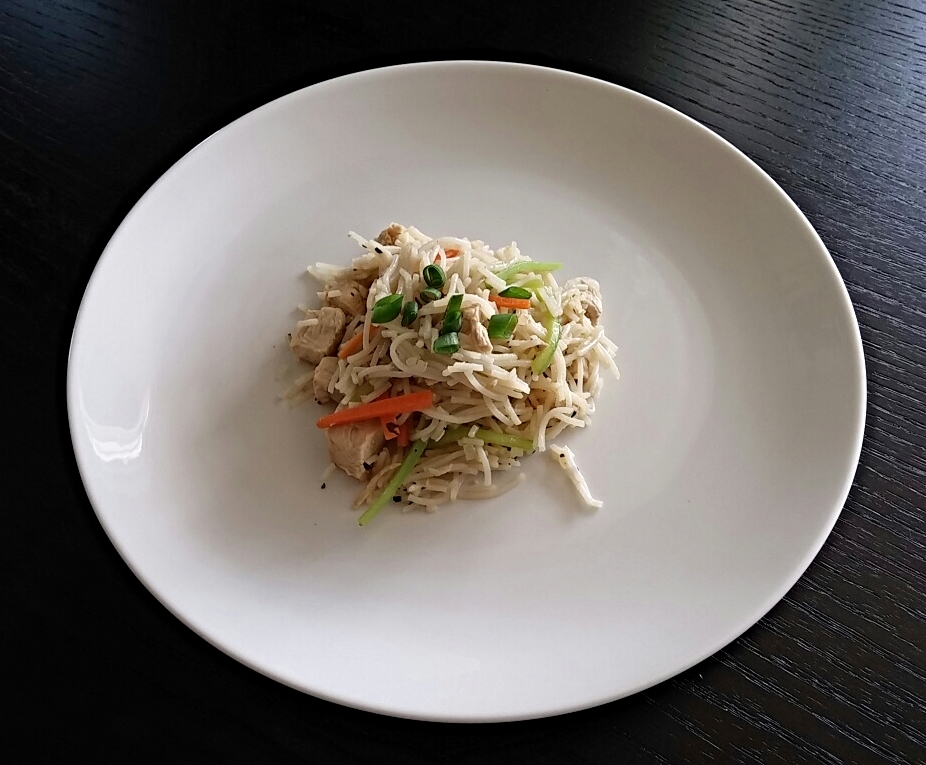 Naturally I grew up eating lots of pancit and Coke. Whether it was my mom's homemade pancit or store bought from a Filipino bakery, it was always delicious. We had it for all sorts of occasions especially on birthdays because the tradition is to eat noodles on your birthday for a long life.
For my husband's birthday lunch I prepared clean spaghetti and meatballs from Dr. Junger's book "Clean Eats". It's quickly become a family favorite, though I did feel a little bad that we did not have pancit. The truth is I've never cooked pancit maybe because it's always been available to me. It's strange to say but it's true.
Recently I've been cooking with soba noodles which remind me of the thin pancit noodles called sotanghon. King Soba is my favorite brand because it is the most clean, organic, and healthy noodle available. You can use them in all sorts of noodle dishes like ramen and pad thai. It's so versatile and delicious.
Here I offer you my own pancit recipe that I call The Perfect Pancit. Most pancit dishes are greasy and salty with possible additives. My version is totally clean and organic so there are no bad ingredients in this recipe. I love using avocado oil. I find that food tastes really good when I cook with it. I also use a clean fish sauce. Buy organic and clean ingredients and you will feed your body the very best to maintain a healthy lifestyle. Pair The Perfect Pancit with a nice glass of kombucha.
The Perfect Pancit
Ingredients
4 cups of filtered water
2 organic chicken breasts, fat trimmed off
1 tbsp onion powder
2 garlic cloves
1 bay leaf
1 tsp dried thyme
Pink Himalayan sea salt or gray Celtic salt to taste
1/4 onion, diced
5 or 6 garlic, finely minced
3 tbsp avocado oil or olive oil
1 tbsp anatto seeds soaked in filtered water for color ( hand squeeze the seeds to get the red color out)
1/2 cup organic chicken bone broth (Pacific brand is clean or make your own)
2 or 3 organic carrots, julienned
2 organic celery stalks, julienned
1 package of King Soba Thai noodles
1 tbsp fish sauce (Red Boat brand) or to taste
Freshly ground pepper to taste
Organic lemon wedges or calamansi
Organic green onions for garnish
Directions
In a large pot add the first 7 ingredients and bring to a boil. Cover the pot then lower the heat to simmer it for 20 minutes. Take the chicken out to let it cool on a cutting board and then slice the chicken into small bite size pieces.
Bring the water (used to cook the chicken) back to a boil. Add the noodles and cook for 2 or 3 minutes. Put the noodles in a colander and set aside. You could drizzle some avocado oil or olive oil if you wanted to.
In a cast iron pan add the avocado oil and saute the garlic and onion for about 2 or 3 minutes. Add the chicken and stir around. Add 5 tbsp of anatto water and 1/2 cup of chicken broth. Stir in the carrots and celery. Add the noodles and continue to stir. Add the fish sauce and freshly ground pepper. Stir till well combined. Serve warm with a squeeze of lemon and green onions. Enjoy!
Please note: my pancit recipe is not greasy or salty. So if you're looking for that type of pancit, you will be disappointed with this recipe. The idea is to provide clean, wholesome, healthy recipes so I use only the freshest produce possible and ingredients with no additives, preservatives, dyes, or anything artificial. The products I recommend are among the healthiest and highest quality choices in the market.
Resources for Clean Eating
Sign up for one of my programs!
My ON FIRE 6 Month Health Coaching Program
My 3 Month Health Coaching Program
My 1 Month Health Coaching Program
Favorite Clean Brands