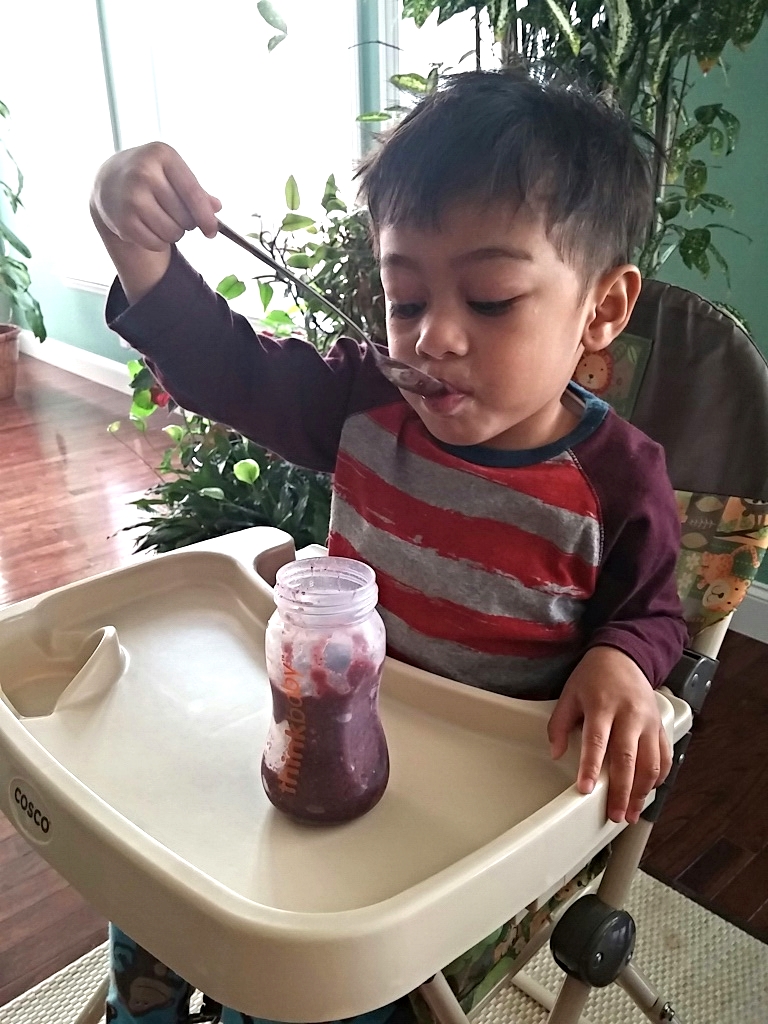 My son has to be the pickiest eater that I know! Even when my parents had him for two weeks at their home they were dumbfounded. My mom is the best cook but she called me a number of times to let me know she was cooking up a storm doing her best to feed the boy but he would only take a couple of bites and be done with eating. Between my husband and me, we have a hard time feeding him.
But lo and behold I think that I've found his favorite shake thus far! I'm calling it the Best Berry Shake Ever because all of us in the family are really enjoying it. Yesterday morning I made three good size servings and my son practically drank most of it leaving very little for his mama and daddy. As long as he's eating healthy this mama is happy.
This shake is adapted from the Blender Girl's Antioxidant Avenger Smoothie. But my version is completely clean which means it strictly follows Alejandro Junger's Clean Program protocol. I have found that I feel my best when I adhere to it so I'm pretty much on a clean diet 24/7. For anyone who is dealing with chronic illness, autoimmune disorders, fatigue, or other ailments, thousands of Dr. Junger's patients and readers have found that his program works for them including myself.
While talking to my mom about how my son just loves this recipe, she offered a really good suggestion. Instead of ice cubes, add in frozen watermelon cubes. She's so right! Watermelon is high in glutathione which is the body's most important antioxidant.
This shake is fantastic to help prevent colds or even if you are already under the weather. It really has it all - fiber, healthy fat, protein, glutathione, vitamins, and nutrients! It's packed with lots of fiber from the berries. The ginger and cinnamon help boost the immune system. I add concentrated chlorophyll into the shake. Chlorophyll feeds the good bacteria in the gut so you want more of the good than the bad. And it's hydrating from the coconut water and watermelon. If you are nursing a cold, I recommend using fresh fruits so that the shake is not too cold. Enjoy!
Best Berry Shake Ever
Ingredients
1 1/4 cup coconut water, add more if needed
2 cups organic frozen or fresh blackberries, blueberries, and raspberries
1 organic frozen or fresh pear, cored and cubed
1/4 tsp ginger, minced
1/4 tsp cinnamon
12 - 18 drops of liquid chlorophyll (I use ChlorOxygen.)
2 handfuls of organic baby spinach (optional)
1 tbsp chia seeds
1/2 - 1 cup frozen watermelon
1 tbsp coconut manna
1 scoop hemp protein powder (I use Nutiva.)
Directions
Blend all ingredients preferably in a high performing blender like a Blendtec or Vitamix. This shake serves two healthy glasses.
Resources for Clean Eating
Sign up for one of my programs!
My ON FIRE 6 Month Health Coaching Program
My 3 Month Health Coaching Program
My 1 Month Health Coaching Program
Favorite Brands
Affiliate Disclosure- This site is a participant in the Amazon Services LLC Associates Program, an affiliate advertising program designed to provide a means for sites to earn advertising fees by advertising and linking to amazon.com.