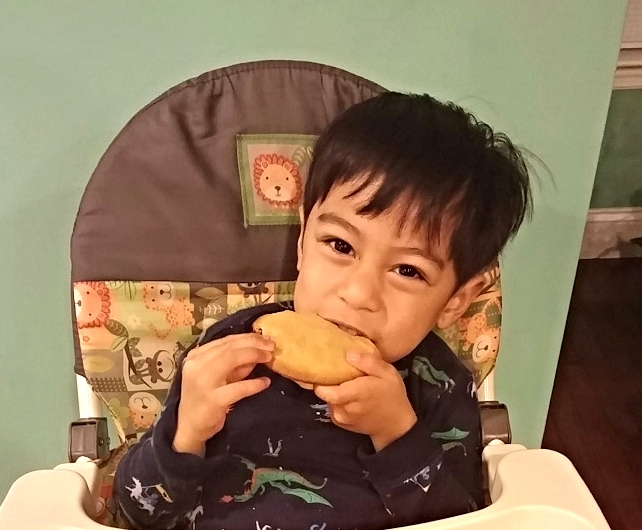 I've been meaning to bake cookies for my son for a while now but it's been so hard to make a cookie that he can eat. With the help of St. Hildegard de Bingen, I think I got it!
St. Hildegard was a German abbess who was extraordinarily gifted as a mystic, writer, composer, philosopher, visionary, and intellectual. I first learned about St. Hildegard when Pope Emeritus Benedict XVI named her a Doctor of the Church on October 7, 2012. She is the fourth female saint to become a Doctor.
What I find most outstanding about her is that she wrote volumes about holistic medicine and natural healing as well as recipes. She is famous for her cookies of joy.
I decided to give it a try. And the verdict is that both my husband and son love them. My husband said that they are among his favorite cookies.
There is truth to St. Hildegard's cookies of joy. They really put you in a state of bliss. The first time I made them I noticed almost immediately a most lovely scent when mixing the batter. The fresh aroma is really unforgettable.
Keep in mind that her recipe is several centuries old. St. Hildegard lived from 1098 to September 17, 1179. The recipe that I adapted also made some modern modifications. You can find that recipe here. My adaptation is gluten free, dairy free, and refined sugar free.
When I make St. Hildegard's cookies of joy I like to say a Hail Mary and a quick prayer to St. Hildegard mostly so that I do not mess up the saint's recipe and for guidance in baking delicious cookies. I have made this recipe a handful of times and it has worked without fail so far!
If you are not familiar with ghee I recommend giving it a try. It comes from 100 percent grass fed cows without the lactose. I find it easier to work with than vegan butter. It's easier to soften and refrigeration is not necessary. Vegan butter is also good to use. Leave it out for it to set to room temperature.
You can try experimenting with different flours. I read that St. Hildegard liked to mix different flours in her recipe. Here I used gluten free all purpose baking flour because I have it on hand most of the time and millet flour because of its texture and easy use making baked goods.
I added delicious chocolate chips to this recipe. Without them the cookies remind me of large sugar cookies.
Remember to inhale the rich, fresh aroma of your batter as you mix it. It is wonderful and will bring you to that beautiful, blissful state.
St. Hildegard's Cookies of Joy (gluten free, dairy free, refined sugar free)
Ingredients
1/2 cup ghee or vegan butter
1 cup Bob's Red Mill Gluten Free All Purpose Baking Flour
1/2 cup millet flour
Up to 3/4 cup real maple syrup
1 egg (pastured is best; organic is also good)
1 tsp baking powder
1/4 tsp Himalayan pink salt
1 tsp ground cinnamon
Few dashes ground nutmeg
Few dashes ground cloves (optional)
1/8 cup chocolate chips
Directions
Soften the ghee or butter in a large bowl with a large spoon. Then add the maple syrup slowly. Keep stirring as the mixture will end up looking like tofu scramble in a brown sauce. (It's not at all appetizing to look at but I promise it will look better once you're done.) Beat in the egg. Whisk all the dry ingredients in a large bowl. Add a third of the dry ingredients and mix well, Add another third and mix well again. Then add the final third and mix thoroughly. Mix in the chocolate chips. The dough should take on the texture and appearance of peanut butter. You may chill your dough to make it more workable. Heat the oven to 350 degrees. If you do not chill your dough use two large spoons to scoop out about 2 to 3 tablespoons of batter and place it carefully on a baking sheet lined with parchment paper. Space them several inches apart as the cookies will expand and spread. Bake for 15 to 20 minutes until the edges are golden brown. Cool and enjoy! Makes about 12 to 14 giant cookies of joy.
Resources for Clean Eating
Sign up for one of my programs!
My ON FIRE 6 Month Health Coaching Program
My 3 Month Health Coaching Program
My 1 Month Health Coaching Program