Pan-crêpes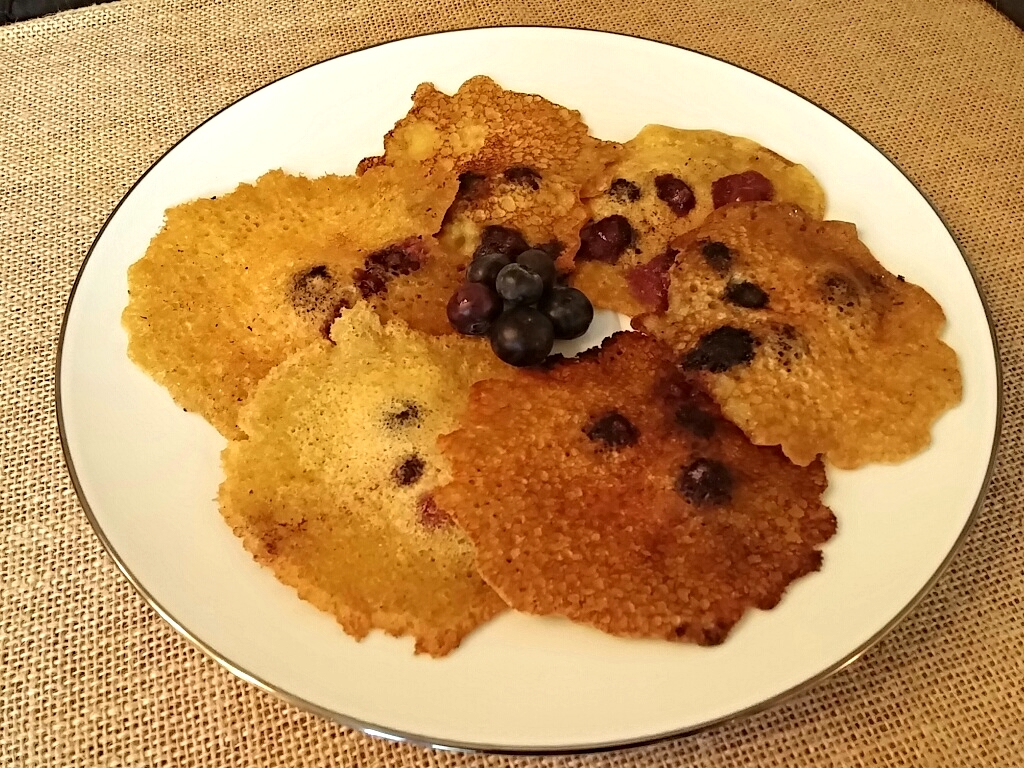 When I next make it to New York City again (it's been at least several years since my last visit), there's one eatery that is on my wish list. And I never thought that I would say this, but it's vegan. Yup! That's right. No meat and no animal products.
I've recently discovered a very talented, innovative, and young chef, Chef Chloe, on the Internet. She's the owner of By Chloe in New York City and I'm just so curious to try the place out one of these days. Since pretty much every recipe of hers that I've tried has turned out super delicious, I'm adding her recipe books to my wish list on Amazon.
My new obsession is pan-crêpes. The original recipe calls for regular all purpose flour but since my son and I can't consume wheat I substituted Bob's Red Mill all purpose gluten free baking flour. Chloe's olive oil pancake recipe comes out fluffy. Mine resulted in a different texture and look so I'm calling these pan-crêpes because they remind me both of pancakes and crêpes.
The first time I made this I added orange zest and chocolate chips flavored with stevia. These were very good. But when I used organic blueberries, the whole family and I couldn't stop raving. The blueberries give the pan-crêpes some height so they don't turn out so flat. Plus the juice oozing from the blueberries make these so nice and sweet. You can also try making these with bananas and organic chocolate chips (I like a brand called Lily's). I would cut the bananas in chunks to add height.
I recommend you eat these right away as nothing beats warm, newly cooked food. You may not need to add any more maple syrup as it's already included in the batter. Genius, right? The edges have a neat crispness and the olive oil makes these so buttery and moist. I can eat these all day long.
The original recipe can be found on Chef Chloe's website. But I think these pan-crêpes are a new family favorite. They are absolutely delicious, and adding a bowl of fruit or a breakfast meat make this a wonderful meal!
Pan-crêpes
Ingredients
1 cup Bob's Red Mill all purpose gluten free baking flour
1 tbsp baking powder
3/4 cup filtered water
3 tbsp real maple syrup
1/4 cup extra virgin olive oil, plus more for coating the pan
1 pint or less of organic blueberries
1/2 tsp pink Himalayan sea salt
Directions
In a large bowl, whisk together the flour, baking powder, and salt. In a smaller bowl, mix the water, oil, and maple syrup. Add the liquid mixture onto the the dry ingredients. Mix the ingredients very well. Once its well combined and most of the lumps are gone, fold in the blueberries gently.
Heat and coat with oil a cast iron pan. Adjust the heat between low and medium depending on your cooktop. Use a 1/4 measuring cup to scoop the batter and add it to the pan. (I try to scoop about 3 or 4 blueberries for each pan-crêpe.) Allow bubbles to form (I like to have the bubbles form throughout the pancake), then flip and continue to cook till lightly browned. Allow the liquid from the blueberries to ooze out. Then repeat.
Resources for Clean Eating
Sign up for one of my programs!
My ON FIRE 6 Month Health Coaching Program
My 3 Month Health Coaching Program
My 1 Month Health Coaching Program