My Catholic Story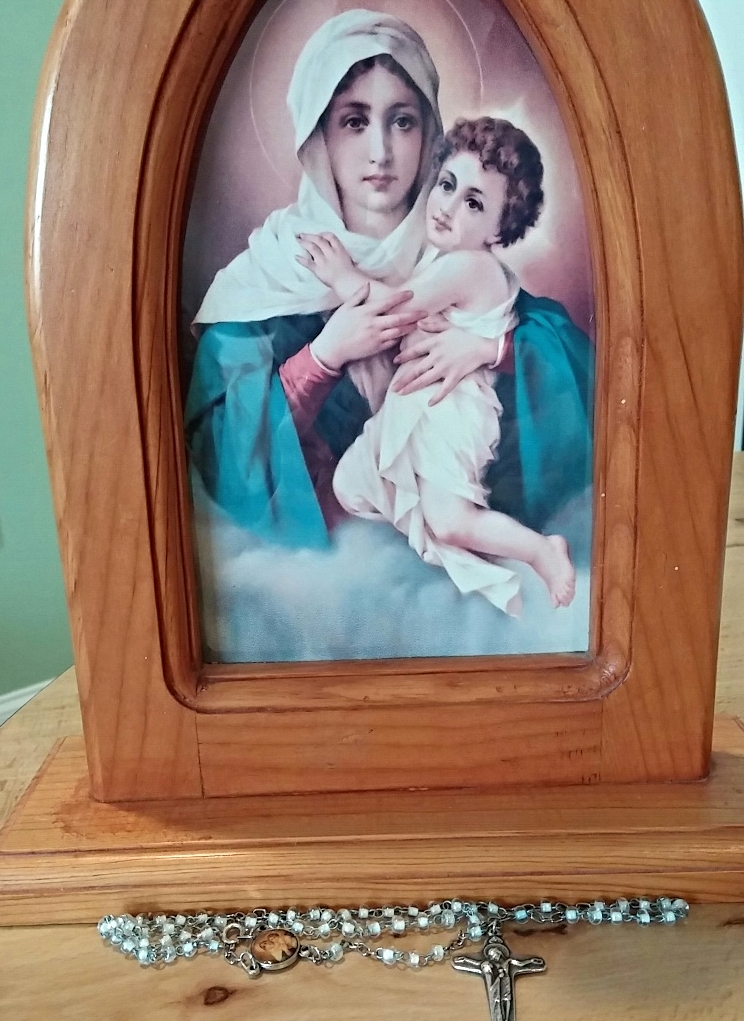 As we begin Holy Week, I am reminded of a moment in time when my world stood still, a defining moment in my life. It was a time when I realized how great God's love is and how His love transformed me. This is my reversion story.
April 3, 1997. I was a junior at the College of William and Mary in the midst of exams. I remember answering the telephone and hearing my dad's voice -- he sounded so sad, so broken and so exhausted. I could tell he had been crying. I had never heard him like this before and so I immediately became alarmed. I braced myself to hear the worst. My dad began by telling me that my mom underwent surgery to remove three large tumors on her spinal cord. Wait! This was news to me; I knew my mom was undergoing surgery but I had been told it was for a relatively minor procedure, not major surgery! I held my breath, waiting for the reassuring words that everything was ok. Instead my dad's defeated voice continued. "Your mom is resting now…" At that moment came an outpouring of grief and pain. I began to cry uncontrollably and could not listen any longer. All that was registering was that she was gone so I told my dad, "Dad, I have to go!" I quickly hung up the phone. I had never dealt with losing a loved one, much less losing a parent. I was too young to lose her! What made it worse was that I had not known about my mom's condition, how serious it was, and had not spent any more time with her. I didn't even have a chance to say goodbye. So I stood in the middle of the room feeling guilty and lost. I didn't want to see anyone nor did I want anyone to see my grief. But my loss was so overwhelming I could not weep quietly. My cries escaped the solitude of my room, worrying my hall mates who kept knocking to see if I was ok. I could not stop the tears.
Some time passed and then a thought came to me. I recalled something that my mother had given to me and told me to keep with me always -- a simple, wooden Rosary. I had never prayed the Rosary on my own before but this was a time when I felt I needed to. I knelt down next to my bed and began to pray still crying. In the middle of my prayer, I suddenly felt consoled and my crying ceased. A calming peace passed through my whole being and I had faith that my mother was in a better place. This was the first time I found consolation with the Blessed Virgin Mary and I felt thankful.
The next day my dad called again. To my surprise and great relief, I learned that I had misunderstood him. The sadness in his voice and his choice of words made me believe that my mom was gone. I was so happy to realize that my mom was alive!
I needed to see her. Fortunately a good friend agreed to drive me to the hospital. I cannot describe the feeling of seeing my mom again after thinking she was gone. She was calm and beautiful, resting quietly on the hospital bed. My sadness completely gone now, I was overwhelmed with feelings of gratitude. Gratitude that she was alive, gratitude that I was able to see her, and especially gratitude to the Blessed Virgin Mary.
This experience was a real awakening for me. I had a new appreciation for my family and my life. Most importantly, my faith had been shaken awake. My tears and sadness had not been wiped away by chance, but by God's gracious mercy. I realized for the first time the great power of the Rosary and the Blessed Mother's intercessions. Little did I know that this was just the beginning of a beautiful relationship with my Lord and my God.