A Love Story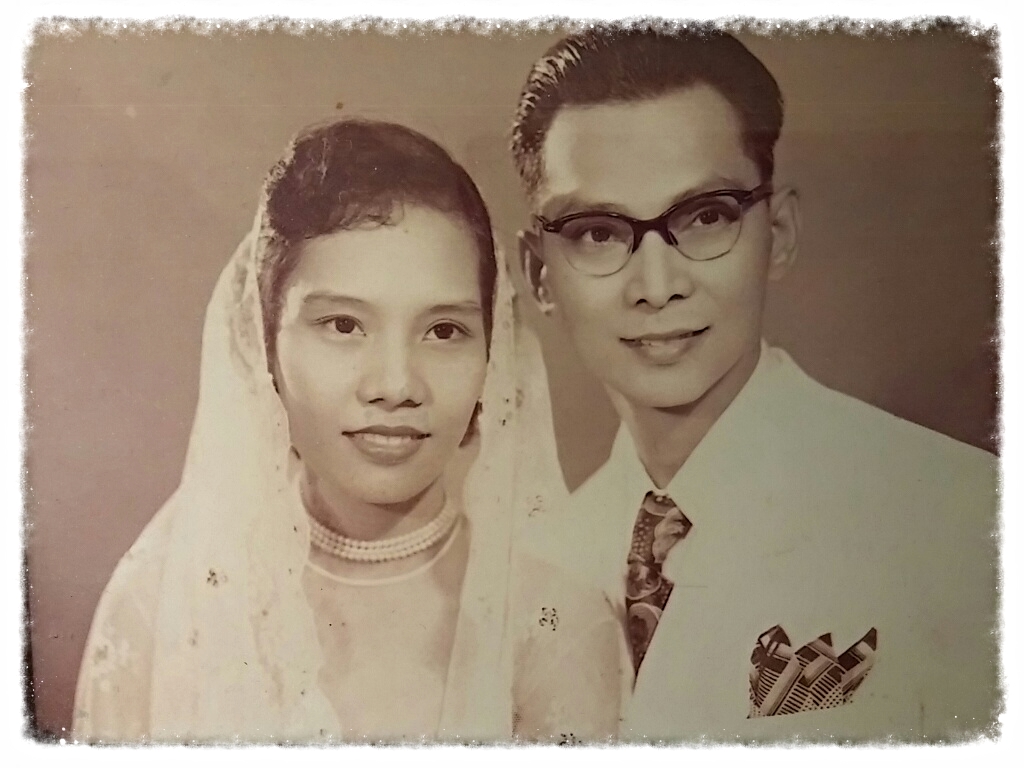 The most in love couple I have ever met happens to be my mother and father-in-law, Dr. and Mrs. Jose P. Javier. I would venture to say that they are the sweetest, most loved, and revered couple I know. After all, they have nine children, 16 grandchildren, and two great grandchildren. Now that's a lot of loving to go around! Their love story spans more than six decades. Theirs is a true testament to what love is all about.
When I first met Dr. Javier, there was an impressive presence about him that commanded respect. Upright, distinguished, and handsome, Dr. Javier at 97 years of age was energetic and youthful. As soon as I walked into the room, he made long, graceful strides to greet me. Before I knew it he was welcoming me, holding my hand with both of his hands. And he had the most beautiful, gentle voice that I had ever heard. Soon after I met Mrs. Javier who was just as gracious and welcoming. I soon came to learn she's a perfect lady who emulates our Blessed Mother.
This was the summer of 2007, the summer that the Javier siblings planned a special family reunion to also celebrate Mrs. Javier's 79th birthday. It was a most momentous, fun, and amazing time with the Javiers. I remember the laughter, smiles, food, and more laughter. I remember Butch, Tina, Ana, Lulu, Judy, Gerry, Rosa, Francis, their spouses, and nieces and nephews. For me, it was pure excitement since I come from a family with one other sibling. My then boyfriend Martin, who is number 7 and now my husband, and I had just started dating three months prior. I saw the immediate resemblance between father and son. And my mind was already made up! I really wanted to be a part of this one-of-a-kind, close knit family. I had a grand and marvelous time with such wonderful company. This was what I hoped my future would look like. Rich in faith, hope, and love. I said to myself, "I want to be a Javier!"
This was also the first time that Martin's parents and my parents were to meet. Then, my parents owned a beauty salon. They invited the Javiers for some "merienda", light Filipino fare. During the meeting it was the first time that I had ever heard the phrase "Dios ti agngina". A curious thing. I have a gift for languages and my comprehension of Ilocano is excellent. But I was not familiar with that phrase. Dr. Javier respectfully said those words to my parents who were quite overjoyed and surprised at the same time because it's not common everyday Ilocano. But when it's spoken, I suppose one feels blessed and humbled. The words seem like a benediction of some sorts. When one is giving the gesture, he or she does not know when or how they can repay the person for what they have done for them. So one invokes God for assistance and asks for a blessing upon that person and his or her family.
I have pondered the phrase over and over again. And so it became clear to me just recently that it bear the name of this blog. Throughout my life, I have been given countless blessings over and over again. I can attest that God has granted me favors for which I am so undeserving. And I have nothing, nothing to repay God except for my time, love, and prayer.
I have also pondered about Dr. and Mrs. Javier whom I now lovingly and affectionately call Mom and Dad. (Dad just celebrated his 105th birthday on February 19.) They are quite often in our daily thoughts and always in our prayers as we hold them dear to our hearts. They are a couple who have fervently kept God in the center of their lives; trusting in His holy will and open to life, always open to precious life. This could very well be the secret to a long, healthy, happy life and not to mention the secret to a lasting marriage.
Mom and Dad celebrate 64 years of married life today. That is 64 years of bliss and togetherness through thick and thin, giving glory to God every day of their lives. The years do not wither for them. They are just as happy as they were when they first decided to share their lives, perhaps these are their happiest years. Happy anniversary Mom and Dad from all of us, your children, grandchildren, and great grandchildren. You are the bedrock in our lives. May our Lord grant you peace, strength, and much joy during your twilight years. We love you so very much! "Dios ti agngina" for loving us, your constant prayers and guidance, and teaching us what matters the most.