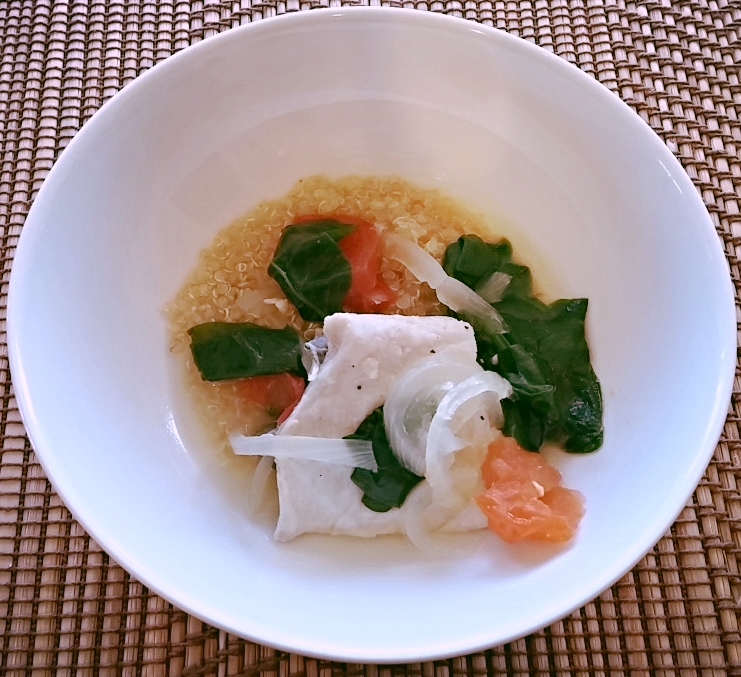 I'm happy to share my very first clean and healthy Filipino recipe, through the courtesy of my mom, my dad's favorite fish sour soup (sinigang). This recipe uses rainbow trout since my dad loves trout. If you are new to Filipino cooking, no worries. This one is very simple and fast to prepare. However, this one is not your typical sinigang. We are adding a star ingredient that is super healthy and wonderful for the gut. It's chickpea miso by South River Miso. (I went to the website and had mine shipped to me.) This miso is unique because it is soy-free and gluten-free. It's a special brand but it's so worth getting it since it is a probiotic and it's versatile in many recipes. Use it to make soups and casseroles. Miso needs to be kept chilled in the refrigerator since it is fermented. This is a delicious and healthy version of sinigang. My family loves this recipe and I hope you'll enjoy it too!
Rainbow Trout Sour Soup
Ingredients
1/4 organic onion chopped
1/2 organic tomato sliced
a small piece of ginger pounded
1 wedge of organic lemon
3 cups of filtered water
1 or 2 rainbow trout filets (you could also use wild caught salmon)
1 bunch of organic spinach
2 tbsp chickpea miso by South River Miso
pink Himalayan sea salt and freshly ground pepper to taste
Directions
Wash the fish and pat dry with a paper towel. Add salt and pepper. Add three cups of water, onion, ginger, and tomato to a large pot and bring to a boil. When the water boils, put the fish on top and allow to boil for 3 minutes. Add the lemon juice and spinach. Cook for another 3 minutes or until the fish is cooked. Gently stir and add salt and pepper if needed. Turn off the heat. Finally add the chickpea miso. This gives it the sour taste instead of the tamarind. (The miso should always be added last and added when the heat is turned off.) Serve with brown rice or quinoa.
Resources for Clean Eating
Sign up for one of my programs!
My ON FIRE 6 Month Health Coaching Program
My 3 Month Health Coaching Program
My 1 Month Health Coaching Program