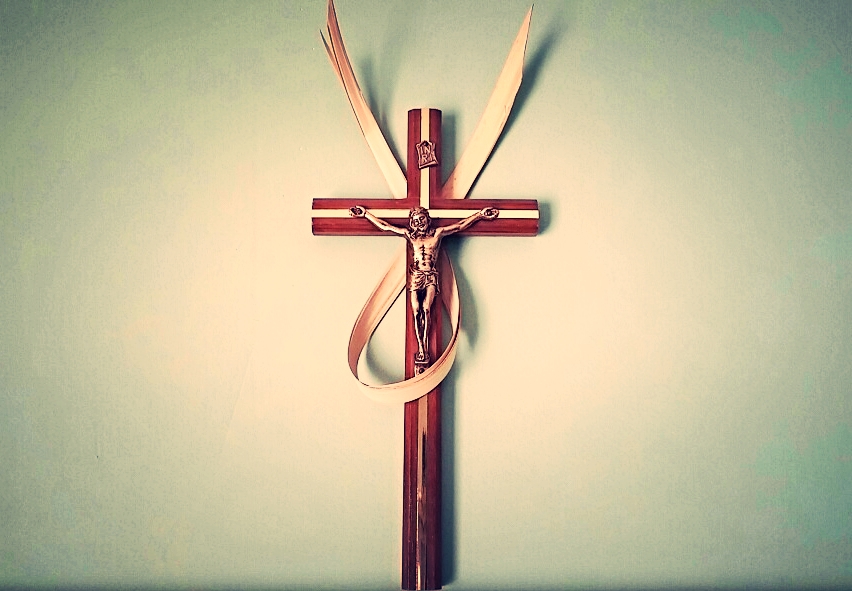 Years ago I was asked to drive a Schoenstatt priest from Northern Virginia to Virginia Beach. During the drive, I asked him if there was ever a St. Elaine. Fr. Dietrich exclaimed, "Yes, St. Helen!" I remember feeling happy to hear it.
The second time I learned about St. Helen or St. Helena was during a homily at Our Lady of Hope in Northern Virginia. Fr. Saunders (a great homilist and a graduate of my alma mater The College of William and Mary) was sharing a beautiful story about the eye catching significance of the crucifix above the altar.
If you live in or near Northern Virginia I highly recommend that you visit Our Lady of Hope in Potomac Falls, Virginia. I've always admired its beauty and especially the suspended crucifix before the altar. On the back of this grand, commanding fixture bears the Latin words "in hoc signo vinces" (in this sign, you will conquer). The story tells of Constantine marching with his army and suddenly he sees the sun and a bright cross with those words. The following night God explains the meaning of the vision in a dream. God tells Constantine to have every soldier bear the sign of the cross on his shield in battle. Constantine did as the Lord warranted and he came out victorious. The cross is a powerful reminder that Jesus is the triumphant one.
I love the story of St. Helena. She really was a remarkable saint. An empress, mother, and wife, sadly her husband the emperor left her for another woman. Mother to Constantine, she was responsible for converting him to Christianity. She therefore is the patroness of difficult marriages and converts. She spent her life building churches for God's glory.
St. Helena is also famous for finding the True Cross upon which Our Lord was crucified. She found all three crosses but it was the True Cross that brought about the miracle of the healing of a woman diagnosed with terminal illness.
These stories highlight the triumph of the cross. Jesus, the Lord of lords and the King of kings, has already conquered death and has laid a path for all of us to follow. I recently watched a homily on EWTN by a Passionist priest who was talking about darkness. We, just like Jesus and all of the saints, experience great darkness from time to time. The priest explained that just as darkness is important for mustard seeds to grow, it is the same for each one of us. Darkness is supposed to make us stronger. It is supposed to bring us closer to our Lord. It is during our darkest, most difficult times that we can grow in faith and really know and follow our God.
The saints are our friends. They are with God in heaven and are rooting for us. Have your children read and learn about their patron saints and encourage intercessory prayer. You can even make it fun for your children by throwing a party in honor of their patron saints. There are some wonderful, inspiring movies about the saints, too. Watch them with your children. When my son gets older, I plan to teach him about his patron saints. His full name is Joseph Fulton Constantine; Joseph after St. Joseph and his paternal grandfather Jose; Fulton after Venerable Fulton J. Sheen, the great TV evangelist; and of course Constantine after Constantine the Great. (Although Constantine is not honored in the Roman Catholic Church as a saint, he is still remembered for his great role in Catholic history - the legalization of Christianity among other things.) I love this quote beautifully put by Pope St. Clement I of Rome: "Brothers, we must follow such examples. For it is written: Follow the saints, because those who follow them will become saints." August 18 is the feast day of St. Helena. St. Helena, patron saint of converts and difficult marriages, pray for us!
Favorite Movies and Books Of The Saints
Affiliate Disclosure - This site is a participant in the Amazon Services LLC Associates Program, an affiliate advertising program designed to provide a means for sites to earn advertising fees by advertising and linking to amazon.com.