Mother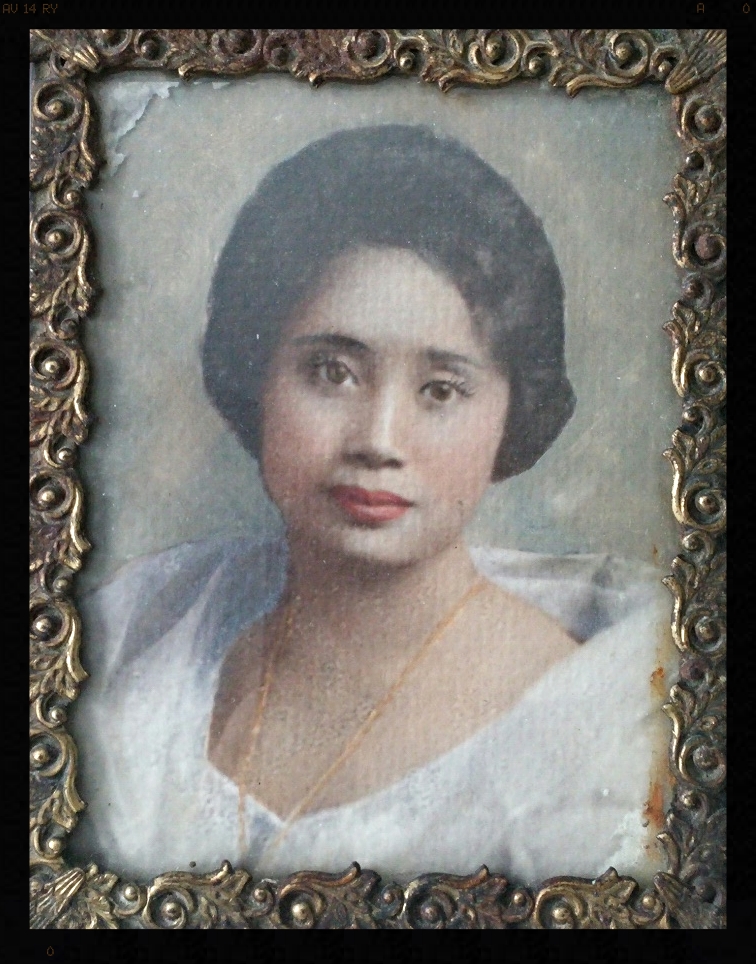 She reminds me of a Filipina Mona Lisa; this picture captivates me. It somehow draws me closer and I wonder about this fair lady who was my father's mother.
Interestingly, the picture was found by my mom's youngest sister Josephine after the eruption of Mount Pinatubo in 1991 in my maternal ancestral home. For the longest time, my aunt asked who this lovely lady was.
In the early 1960s my dad had this picture framed with the money he earned as a young Navy sailor. Though he visited my mom's house when he was home, it is still a mystery how her picture ended up there. Countless valuables were destroyed with the volcano eruption. It's a wonder how this small yet sentimental image survived!
My dad is the third of four sons -- Felipe, Emerito, Jorge, and Buenaventura. The oldest and the youngest have passed on. My grandmother gave birth to my dad on February 22, 1942 in the midst of a suffering world. World War II was happening and my grandmother and her family were in hiding in the mountains in Castillejos. She was very ill and so was my dad who was just a newborn baby. By the grace of God, my dad was able to survive because my dad's aunt was able to breastfeed him. She had lost her baby during that tumultuous time.
A strict disciplinarian who couldn't cook well was how my dad always described his mother. But nevertheless he loved her and ate her home cooked meals. Life was not easy. My grandmother was constantly caring for her sickly son throughout his youth.
I used to spend time perusing old family pictures, fascinated by another time and place. Among my dad's photo collection were pictures of his mother as a young school teacher. She and her colleagues would travel to different parts of the Philippines most likely for teacher training programs.
When I visited the Philippines in the summer of 1998, I met two elderly women who were neighbors and friends of my mom's family. As we sat in their porch, they reminisced their school days as young girls. They recalled, "Your grandma was very strict and tough but we cannot forget her because she was a very good teacher." She had a competitive spirit; she expected her children and students to perform to the best of their ability. Maybe that was why academics was so important to my dad. His late brother Buenaventura (Ben) once told me that my dad never got a mark below a "B".
Discipline and work ethic were very important to my grandmother. I remember looking at the back of an old photograph. I was scrutinizing the beautiful, perfectly straight penmanship that was so familiar to me. I realized that my grandmother had written it. Both mother and son's penmanship were almost identical. My grandmother taught my dad how to write among other things. In their home they had a wealth of educational resources which was uncommon those days. My dad said they had numerous textbooks that many of his cousins and relatives would borrow.
There are so many endearing stories about my grandmother. She was a business woman who made and sold bagaong, salted fish paste, because teaching unfortunately could not feed her family. She and my grandfather were also very thrifty, never wasteful. My dad used to tell me to eat every piece of rice on my plate because that's how he grew up. His mother never let her family waste a single rice grain. To this day I eat every single grain of rice on my plate.
My grandmother was also the reason why many Fabunan family members converted to Catholicism, including my grandfather Pastor. Previously the family was Aglipayan, an Ilocano Christian sect. She's the reason why the faith is so important to my dad. She's the reason why my dad is a loving husband and father because she taught him love. When I watch my dad during Mass I see how reverently he kneels during consecration. Through all of my mom's health problems (she had cancer in her mid 20s, rare tumors by 50, and an acoustic neuroma at 60), he has been there steadfast and prayerful, always devoted and caring for my mom. I am sure that these critical moments in my mom's life served as a reminder of his own mother's illness.
Gliceria R. Fabunan died on May 26, 1960 leaving behind her husband and four sons, the youngest just 6 years old. She was 52 years old. She had been very ill and at the time the doctors in Manila could not treat her ailment.
My dad was in high school when he lost his beloved mother. I can only imagine the heartbreak. I still remember his dark brown wallet when I was little. He always carried small pictures of my mom, me, my brother, and his mother.
The story of my remarkable grandmother sparks a desire in me to homeschool my son. I believe that she and my dad were close because she devoted her time teaching my dad. That is a mother's love. She will do all that she can for her children the best possible way she knows and my grandmother did just that.
After all these years, her enduring spirit still lives. Her strong will, her dedication to her family, her faith -- all of these have been instilled in her descendants. This month of May we remember you, Grandma Gliceria. We remember you with love and gratitude.