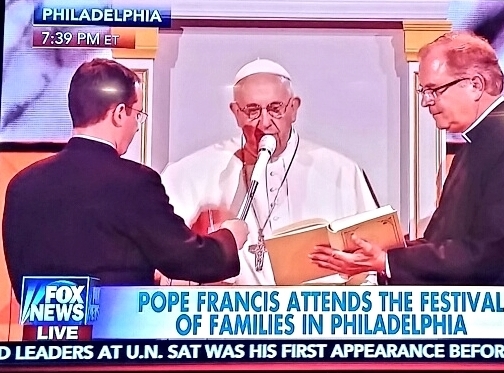 Did anyone else notice how high church attendance was last Sunday and this past Sunday? I had never seen so many people attend Mass before at our parish! I like to think that Pope Francis' visit to the US had something to do with it. I certainly hope he comes back for another visit!
Like so many, I had been glued to the television watching and cheering for the pope all week long. What excitement and good for the whole world to witness!
I couldn't help but notice that the climax of Pope Francis' visit to Philadelphia for the World Meeting of Families brought much joy to the Holy Father. He was beaming and filled with so much energy when he arrived in Pennsylvania!
As much as my family and I wanted to be there to see the pope in person, we were unable to make it. But I recalled what a disabled priest once said about the March For Life: he probably would never be able to participate in the March For Life in Washington, DC again, but he would pray for its success. And so we prayed during the pope's visit.
Prayer really was the theme of Pope Francis' visit in the US. I loved watching all of the Masses and prayer services. The magnificence and beauty of each Mass was truly priceless and uplifting since every moment praised and glorified God. I also loved his humility as he asked many times, "Pray for me."
There is something great and wonderful about the pope. When he enters a place he makes an impact, a difference for the better. A holy man guided by the Holy Spirit, Pope Francis can captivate audiences Catholic and non-Catholic alike; people from all over are attracted to him, and we all listen.
One of the most moving moments for me was when the Holy Father spoke before feeding the homeless. He spoke of St. Joseph and though he had to overcome hardship after hardship he had a quiet wisdom and steadfast faith in God. Like the Blessed Virgin Mary, St. Joseph constantly said "yes" to God. It was so touching and eloquent how he could remind us of one of the most humble saints who ever lived and show us how his life parallels so closely to the poor, the forgotten, and the lost.
May we all be moved to be like the pope and the saints. May we all be moved to be more Christ like!